Embroidery:
I am new to embroidery, will I be able to make this?
Yes, absolutely! All kits have detailed guides with them to walk you through, and there are lots of how to videos to walk you through the steps from threading the needle to mounting your final piece. The simplicity of embroidery is part of what makes it so enjoyable and relaxing! For a couple of the kits which are slightly more advanced, this is flagged in the description. The rest are all suitable for beginners.
I want to send the kit as a gift?
These kits make really great gifts and are accessible to anyone even if they haven't picked up a needle before. Don't worry, no information on price is included in the parcel. If you want to include a note, write this in the notes section on the checkout and we will include a handwritten note!
Any special requests, contact hello@thefabledthread.com and we will see what we can do to accomodate!
Can I order a custom design?
All The Samplers can be customized using the customization tool to change the names, dates, colours of texts and genders of figures.
Outside of these, unfortunately I am not able to do any one off commissions at this time.
Ordering and Returns:
How soon will I receive my kit?
Orders will be dispatched within 5 working days following the date of order. If your order contains an item which is a pre-order, then the order will be dispatched once all items are available. If you want to receive the other items sooner, then please place these as a separate order.
Do you ship overseas?
Yes, we ship all over the world. Shipping costs will apply, and will be added at checkout.
What are the delivery costs?
The prices are as follows:
UK: Royal Mail 1st Class £4.00
EU: FedEx £15.00
Due to the EU VAT rules changing on 1st July, we have had to stop sending orders below £150 within the EU whilst we understand the impact. You can still place orders above £150

US, Canada, Hong Kong, New Zealand, Australia and Singapore: FedEx £15.00.
If you would like to ship a parcel to a region outside of those listed above, please get in touch and I can give you a quote.
Note your country's customs department may add import duty and charges to your parcel on arrival, which will be your responsibility. Unfortunately if you refuse the duties charge when the parcel arrives I will be charged for the cost of returning the parcel therefore these costs would be deducted from any refund.
Can I return my delivery?
We endeavor to ensure that you receive the highest standard and quality of products and services at all times. However if you are unhappy with anything please contact us within 48 hours following arrival and we will do our best to resolve any issues. The Samplers cannot be returned unless they are faulty due to being customized designs. Other products can be returned within 14 days of purchase. Use a tracked postal service as I cannot accept responsibility for returned items lost in transit. Items must be returned in their original condition, being complete, unopened & unused. Postage costs are non-refundable.
What happens if my order contains a pre-ordered kit?
Your order will be shipped once all items are available. If you would like in stock products to be shipped within normal dispatch times then please place this as a separate order.
The Kit:
What is included in my kit?
The Samplers kit comes with Zweigart 14 count aida with the starting area of the design marked, a full colour plan, all the DMC thread on colour coded bobbins, two needles, a 6 inch hoop frame and comprehensive instructions.
The Fables and The Camels come with the design printed on cotton twill, full colour stitching plans, all the DMC thread on colour coded bobbins, two needles, a 6 inch hoop frame, a tote bag to carry your kits around and comprehensive stitching instructions.
The Musicians come with the design printed on organic linen, full colour stitching plans, all the DMC thread on colour coded bobbins, two needles and comprehensive instructions. It is highly recommended to add a 7" hoop for stitching however this is included as an optional add given if doing a few musicians you will only need one hoop.
The Just So Cushions come in our bespoke sewing bags and include all the appletons 4ply tapestry wool you will need, the design printed on high quality Zweigart canvas, two tapestry needles and one embroidery needle, some embroidery thread for finishing details and comprehensive instructions.
Note: Only The Fables, The Musicians and The Samplers come in our signature book-style packaging. The Just So cushions come in our bespoke sewing bags.
What happens if I run short of threads?
I am more than happy to send you extra thread free of charge if you run out. If you do experience a shortage, contact hello@thefabledthread.com
Do I need a frame?
The Fables, The Samplers and The Camels all come with embroidery hoops. The embroidery hoop is an optional add on for The Musicians as you may choose to stitch a few kits in which case you won't need additional hoops.
We stock a small number of Elbessee Easy Clip frames for the Just So cushions. You do not need a frame for tapestry stitching however you may find it a more comfortable way to stitch.
What do I do with my finished piece?
All pieces will look slightly distorted when you finish them, but don't worry about this, they are easily straightened in the stretching process. For pieces to be framed, please refer to the how to guide on mounting which explains the way we do this.
We also sell our hand painted frames, which are a perfect way to present your finished embroidery. Refer to the framing page for more information on this.
Can I sell what I have made?
We are afraid not. The instructions provided in all our kits and the finished items made from them are for your personal use only. They must not be copied, reproduced or sold.
How can I make up my cushions like yours?
Below are links to some backing fabrics, tassels and piping which we think work very well for making up the cushions. You will need a piece of backing fabric slightly larger than the size of the cushion, and around 2.5 meters of piping if choosing to add this.
Backing fabric: We love the Desginers Guild Velluto velvet. It comes in lovely strong colours which work well with the cushions. Favourite colours are the saffron, emerald, ochre and magenta, all of which would work well with the cushions. You can buy them here
Piping: Our absolutely favourite piping is the Inca piping from Samuel and Sons. It comes in a wide variety of colours and has a wonderful strong look. Our favourite colour is Midnight. You can buy it here
Tassels: The tassels are wonderful finishing touches for the cushions. For our cushions we have used these lovely ones from V V Roleaux. Go for the larger size and then whatever colour would suit the backing fabric you chose.
There are many seamstresses who will make up your cushions for you, just search for one in you local area. If you don't mind about having piping and tassels, then the charity Fine Cell Work offer a wonderful cushion making up service for £50 + postage. This includes the backing fabric, a 3/4 zip and the feather cushion pad. They select a backing fabric on your behalf from a wide range of high quality fabrics so is a wonderfully simple way of having your cushion made up whilst supporting a fabulous charity. If you do opt to go down the Fine Cell Work route, send us an email showing confirmation you have done this and we will give you a £10 giftcard for use with The Fabled Thread. We would love to encourage you to use this service. Information on this will be included in each of our cushions parcels.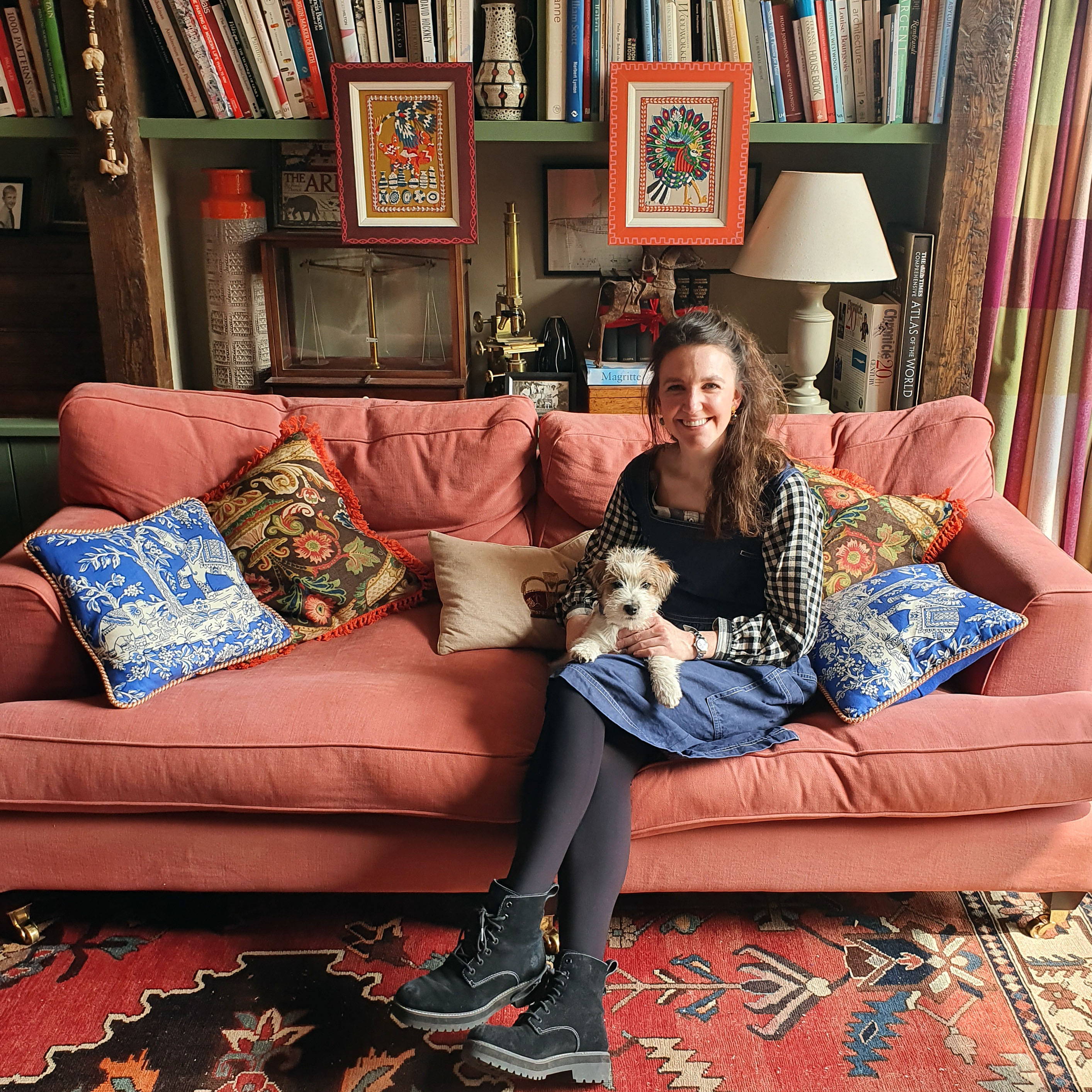 Have a question which we haven't answered above? Either fill in the form below or send a question to hello@thefabledthread.com